Recently we have begun delving into the meaning behind words with my younger son. As a struggling reader, as we have progressed in his abilities, he has begun  to question why a word is what it is. Why is this word assigned to that meaning? These are lots of great questions (I love how this boy's mind works!) but it can be hard to keep up and get the answers he needs.When we were given the opportunity to review Picta Dicta Natural World from Roman Roads Media, I thought this might be a wonderful way for him to be able to have fun while while also learning so much more!
There are two options available:  Picta Dicta Natural World (the subject of this review) and Picta Dicta Vocabulary Builder. In this course there are learn over 400 nouns, students learn the English and Latin of.  This is recommended for elementary-age students and there are varying levels for them to work with to challenge them at whatever stage of learning they are in.
We began at the very first level with my son (who recently turned nine) which is the Natural World Basic level. Since most of the vocabulary being learned in this is regarding animals and nature, my son was captivated almost immediately. Here there are great exercises for helping to learn the English/Latin vocabulary, along with simple sentences to read for understanding.
Each lesson includes visual images along with the vocabulary words. They also provide a short meaning as to what the word(s) mean. They do this first in English, then in Latin. Each lesson also includes the spelling of the vocabulary words being learned. My younger son did find it amusing when he learned that Latin is considered a "dead" language.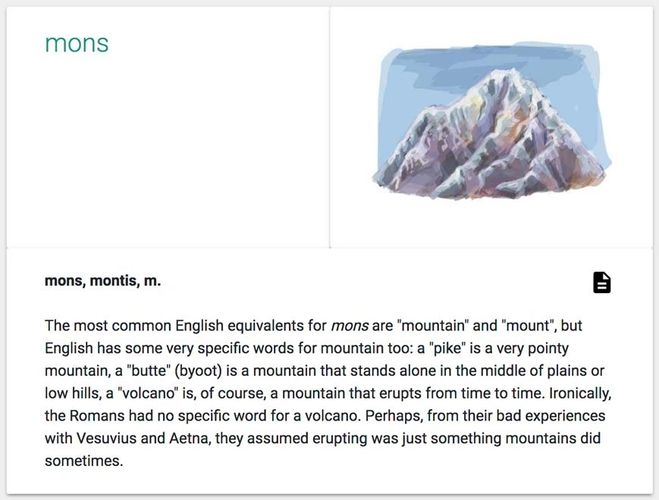 Back to this though: In Learn, they introduce vocabulary. Then in Choose, you match the image to the word. In Spell, you spell out the word that goes with the image presented. Then the Forms, gets more advanced asking for gender, plural, maybe even case if that is the case. ha-ha  There is also Test and Train. You can train as often as you like (I really appreciate that!) and when you do test, you will get stars based on how you did.
Back to the lessons, they do need to be completed in order. So no skipping around from here to there and back again. 🙂 What is nice though is that you can go back and do lessons again that have been completed. We did this a couple times because there is always a review before you can move forward. That's a good thing. An amazing thing to see how well our kids are learning too! I love Latin but if I don't just struggle with recall every time. Our kids though? They really are sponges soaking it all up.
As a family that really enjoys languages and learning the why's behind all things, this is a wonderful program and one I hope we can continue to use throughout the years to come. I love how there is combination of methods used to help our kids, whatever their style of learning, whatever their level of skill, to learn and understand. Vocabulary matters. The words we use have meaning and even more when we truly see it for ourselves.
Social Media Links:
Facebook: https://www.facebook.com/RomanRoadsMedia   @romanroadsmedia
Instagram: https://www.instagram.com/romanroadsmedia/  @romanroadsmediae: YouTube: https://www.youtube.com/user/romanroadsmedia  @romanroadsmedia
Pinterest: https://www.pinterest.com/romanroadsmedia  @romanroadsmedia